When I first talked to some of my American friends about Washington D.C., there was an interesting set of responses - most of them recommended visiting, but the number of suggestions I got for things to see was overwhelming. D.C. packs a lot into a relatively small space.
Getting There
BA217 (LHR » IAD)
BA264 (IAD » LHR)
Unlike Portland, where DjangoCon had been held for several years prior, Washington D.C. is fortunate enough to have a selection of direct flights from London. As is custom - and to ensure I got the much more pleasant Heathrow experience of Terminal 5 - I flew British Airways. I do enjoy rating their captains on how stiff their upper lip sounds.
However, as with my previous trip to the east coast (Atlanta, where I missed my flight due to a bomb scare), the trip wasn't without incident. High above the north Atlantic, during my traditional transatlantic snooze, the captain announces over the PA that we'll be making an unscheduled landing in St John's International Airport, Canada due to a medical emergency.
YYT doesn't normally handle 747s, but is definitely long enough - it was one of the airports deemed suitable for an emergency Shuttle landing.
A landing, taxiway and ambulance later, and the ill passenger is safely in the care of Canada's medical system, and we can take off and resume our journey - once, of course, all the paperwork has been completed. This takes over an hour.
However, as a pilot myself, I can assure you that this was very important. Planes don't run on fuel - they run on paperwork. Heaven knows how the Wright brothers managed to take off without a flight plan, insurance documents, and a certificate of airworthiness in triplicate.
Still, all in all, it's an impressively smooth and calm diversion, and is more reassuring than annoying. A few hours later, I land in Dulles International, and enter the United States.
Getting Around
If you're using the metro a lot get a SmarTrip card. You save $1 per fare, so it'll pay for itself in only a few trips
Someone described Washington to me as a "walking city" before I arrived - that is, at best, stretching the truth. There is at least a reasonable metro system, though it doesn't stretch to the airport (yet) - you have to take a 20 minute coach ride to get to a station, and even once you're there, it's not very frequent. As usual, though, I suspect I've been spoilt by European metro systems.
Actually walking around the main tourist section of the city isn't too bad, though what you don't notice on all the films is quite how long the National Mall is - from the Capitol to the Lincoln Memorial is close to an hour's walk, and given the outside temperature it's not one you can do quickly. This does, however, mean that there's a large amount of green space, which combined with the large number of monuments along the way makes the walk quite interesting.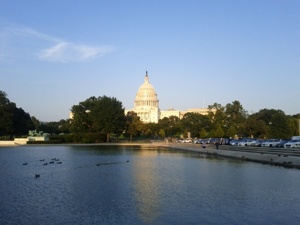 I stayed in the conference hotel, the Hyatt Regency Crystal City. While the hotel was fine - nice staff, decent decor, large maze of underground conference rooms - it has the misfortune of being located in Crystal City, which is one of those out-of-town concrete areas with hotels, a huge shopping mall, loads of car parks, and not much else apart from a few restaurants (I can heartily recommend Good Stuff, a burger place which also has a branch in the city itself).
It was a ten to fifteen minute walk to the metro station - not too bad, and there was also a hotel shuttle every so often - so it wasn't too hard to get into D.C. and see the sights.
The Sights
D.C. is arguably one of the most iconic cities in the world, and for good reason. There are a lot of historic buildings and monuments - more than just the three or four that are well-known outside the US - and you can spend a good day or two just walking around them all and taking it in.
The most surprising thing for me was the scale - everything is a lot bigger, and further away, than it seemed on TV, or in the movies. The Lincoln Memorial is impressively large, while the Washington Monument is even bigger, and close to a mile away. The hot weather makes walking around all of them quite exhausting, but water fountains are in plentiful supply, so as long as you have a bottle you're fine.
Once you've seen everything you can't go in, it's then time for everything that does allow entry - the Smithsonian Institution's plethora of museums and galleries being the main contender. With 20 museums and galleries (and even a zoo), there's enough here for many, many days of cultural and scientific consumption.
Being an aviator myself, though, the main attraction was the two Air and Space Museums. The one along the National Mall in D.C. itself is well worth a visit - among other things, they have the Apollo 11 Command Module, some of the Wright Brothers' first planes, and SpaceShipOne - but the jewel in the crown is the museum's Udvar-Hazy Center next to Dulles airport.
There's a bus from the airport to the Udvar-Hazy Center, but I was very kindly driven there by Katie Cunningham.
The view as you enter is amazing - a Blackbird SR-71 with the Space Shuttle Discovery peering out behind it, and hundreds of planes, rotorcraft and gliders adorning the hangar on three different levels. There's a lot of aviation history here, both good - like the Concorde - and sobering, like the Enola Gay.
I'd highly recommend a visit if you're at all interested in aviation or spaceflight - there are no "story" exhibits or galleries like the main Air and Space museum. It's just a huge hangar, filled with some of the most important and interesting planes and spacecraft from the last century.
There are other things worth visiting too, such as the Library of Congress. It's a wonderful temple to knowledge and has a very, very impressive collection. Unfortunately, I didn't manage to get a tour of the Capitol or of the Pentagon in - both are working buildings, and so tours need to be planned in advance (and in the case of the Pentagon, via your embassy for non-US citizens).
The Climate
The average temperature in D.C. during the summer is around 30°C/86°F.
For some reason, I had assumed D.C. would have nice, sensible weather. Instead, upon exiting the cool, air-conditioned confines of the airport, I was greeted by weather more suitable to the Carribean - hot, humid, and very little wind.
I was later told that Washington D.C. was apparently built on a swamp - which isn't entirely true, but the area did used to feature a lot of marshes and shallow flood plains. Fortunately, the humidity and heat had waned to more acceptable levels by the time I left. There was even some rain.
Still, if you're a cold-weather person like myself, it's probably best to go when it's not summer.
The People
As with all American cities I've been to, the people were friendly, helpful, and occasionally far too eager to talk to you about their family history (my first experience of the US was sitting on a bench at a Caltrain station - a random person came up to me, asked about the book I was reading, and upon hearing my accent launched into a description of how his great-grandparents were English).
My particular thanks go to all the local DjangoCon attendees who helped me out - with tours inside buildings, being driven across town, and helpful local advice. Knowing that there will be some local people proud to show of their city is one of the nice things about going to a city as part of a conference - and if anyone is ever coming through London, I'll be happy to return the favour.
Washington D.C. really is a city with a lot to offer - both in quality and quantity. The sheer amount of monuments, museums and history means that there's days and days of classic tourism available as well as plenty of lesser-known things to explore, with the only disappointment being that there's not much besides D.C. - the area around it is relatively boring and featureless.
Still, there's really nowhere else you can stand in front of the White House, or shelter from the sun next to a nineteen-foot tall state of Abraham Lincoln.