It was this quirky range of laptops which I found myself browsing a few weeks ago after I had decided to move my desktop PC over to function as a gaming machine (and thus doom it to run Windows for the rest of its life). There are some odd entrants - the Lenovo IdeaPads are thicker and book-like (but quite attractive) while the HP Envy series looks like someone has sketched a MacBook from memory, and got it slightly wrong.
After much deliberation and comparison - and a favourable experience with its predecessor - I settled on the very memorably-named Zenbook UX32A. This is one of four Zenbooks available this generation, and the cheapest - the other models will get you more power, better screens, and in some cases a full aluminium body (making them impressively tough).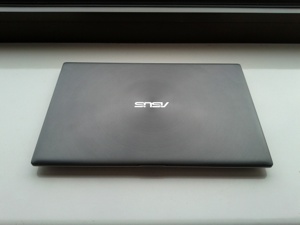 Even for the cheapest model (though at £700 it's only cheap by comparison) you get quite good specs - an i5 processor, 4GB of RAM, a small 32GB SSD and a 500GB lump of spinning metal. The screen resolution is pretty low (1376x760) but it's a matte screen, which helps make up for the resolution if you're fed up of glossy screens.
The beauty of the UX32A, though, is its upgradability. Even though it's only very slightly thicker than its all-aluminium cousin, the UX31A, Asus have managed to make both the hard drive and one of the two RAM modules upgradeable. This means that, after a short stint on my desk at the wrong end of a Torx screwdriver, mine now has 10GB of RAM (the maximum possible), and two SSDs rather than just the one (only the actual hard drive is replaceable - the secondary SSD is soldered on).
The keyboard is nice, too - the slightly thicker body allows for a decent key travel distance considering the laptop's size, and it's backlit to boot. Keypresses are recognised well - the first-generation Zenbooks have problems with not recognising some letters unless you hit the centre of the key.
The i5 processor struggles a little on some more complex tasks, but still performs admirably for a laptop of this size. Integrated graphics mean that this machine isn't exactly going to be a gaming centre, but they're more than capable at dealing with two external monitors. That's right, two - the UX32A has two graphics outputs, a full-size HDMI socket and a special mini VGA socket (adapter comes in the box), and you can use them both simultaneously.
My main priority when it comes to laptops is making sure they work well with Linux - my OS of choice - and so I'm happy to report that most things work (compatibility of newer laptops can sometimes be an issue - usually older models are fine as the developers have had time to get them fully working).
I'm using Ubuntu 12.10 (Quantal), which has only just been released, and so most issues have been solved as new versions came in during the development cycle. The main problem is that the screen on the laptop sometimes doesn't come on during boot - but, if you suspend and resume the laptop, that's fixed till next reboot (an uncommon event with my computers). The brightness keys on the keyboard are also non-functional, though you can still control brightness via System Settings just fine. Minor niggles, that I expect will get sorted in time.
Everything else works well - including the keyboard backlight controls, sound, touchpad gestures and display outputs. Power usage is a bit higher than under Windows, with the laptop only lasting around 4 hours on battery, but I expect that to improve, especially as I plan on turning on some of the power-saving features that aren't on by default.
Conclusion
The UX32A is a well-built, light and reasonably powerful laptop, and combined with the upgradeable RAM and hard drive that makes it a very good buy for £700. My only gripe is the low screen resolution - but I can plug it into my dual-monitor setup if I need more space to work.