It had been a while since I had an actual holiday - the idea of going somewhere without a conference at the other end was quite novel. Still, it was in this mood that David and I booked our trip to Germany.
Initially, we had just planned for a city break in Berlin, but after some further thinking and light research we figured that this would be a good opportunity to visit Europa Park, the second most popular theme park in Europe, as well (Disneyland Paris, of course, being the most popular).
And thus, a trip was born - Berlin, Europa Park, Frankfurt, and the surprise late addition of Heidelberg.
Getting there
EZY2141 (LTN » SXF)
AB6555 (TXL » FRA)
BA915 (FRA » LHR)
Having an odd number of flights on a trip always feels a bit strange, but in this case it was necessary. Because there are no large airports close to Europa Park, the only real option is to drive there from somewhere - we went for Frankfurt, as there's a lot of flight options and the city itself is worth a visit.
That means we ended up with three different airlines, five different airports and a car rental.
The initial flight was by EasyJet from London Luton. I've never flown out of Luton before, and now I see why - it has the feel and architectural style of a slightly outdated leisure centre, and even less charm.
Still, EasyJet were pretty efficient (even if they do try to sell you scratchcards all the time) and we ended up landing in Berlin Schonenfeld half an hour ahead of schedule thanks to some tailwinds.
The regional train will get you to the centre of Berlin faster, but it leaves less often.
A short ride on the S-bahn (or the regional train) later and you're in Berlin - much nicer than the bus you have to take from Berlin Tegel.
Berlin
Berlin is a wonderful city - I was last there in 2010 for djangocon.eu, and I left nowhere near enough time after the conference to see anything, so I just managed to get a quick walk in past the Brandenburg Gate and the Reichstag.
This time was different - with no conference to attend, both days we were there (along with the Monday morning before the flight to Frankfurt) was dedicated purely to sightseeing. The first day was mainly a tour of the various buildings and monuments that Berlin has - Alexanderplatz and the TV Tower (though we opted not to go up it), Museum Island, the cathedral, Brandenburg Gate, the Reichstag, the Tiergarten (complete with unexpected wind turbine blade being shown off), and more.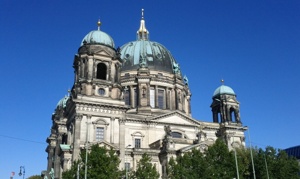 We also stopped off at Konnopke's Imbiss for some currywurst around lunch - a staple street food in Berlin and rather delicious. It's essentially a sausage with tomato sauce and curry powder, along with some optional chips (or fries, for my American friends).
Our hotel for both nights was the Eurostars hotel. It was quite nice, with lovely décor, a good bed, polite reception staff and free WiFi (the latter being an almost essential requirement for us!).
The second day was a bit more planned. We started with the excellent Computerspielemuseum (Computer Games Museum), which is definitely worth a visit for anyone interested in gaming - as well as a lovely set of exhibits and videos, they have a decent number of interactive exhibits and arcade cabinets, and if you happen to be around on a Monday evening they'll let you play on some of the older original machines as well.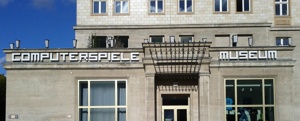 After that, we visited the Berlin Wall memorial - the first time I've seen the wall in real life, having missed it on my last trip. It's a very surreal experience - the wall came down just a year after I was born, and looking at Berlin today it's very difficult to imagine it existing.
There are several sections of the Wall remaining in the city, along with various parts of the checkpoints (including the infamous Checkpoint Charlie).
After that, we made a brief stop at the Ritter store (I do love their chocolate) and then went on to the Technikmuseum (Museum Of Technology) which has a lovely large aviation and rocketry section, as well as a good dose of trains, textiles and communication equipment. We only spent an hour and a half there due to time constraints, but I'm sure you could spend a lot longer.
After a meal we then went to see the Memorial to the Murdered Jews of Europe - a rather impressive field of large blocks which range from knee-height at the outside to towering over you in the middle, with a little museum under it. We also popped over to see the nearby Memorial to Homosexuals persecuted under Nazism, which is quite small and lovely.
The audio guide in the Reichstag is automatic and detects where you are based on some kind of short-range radio beacon. It's pretty clever.
Finally, 9:30pm came around, and some of our research paid off - I had pre-booked for a visit to the glass dome of the Reichstag (you have to book in advance), and so we got to go up and walk around the wonderful dome. It's really something special - the views of the skyline are lovely, the audio guide is particularly good, and the dome and Reichstag itself are beautifully done - I found myself having government building envy, which is uncommon.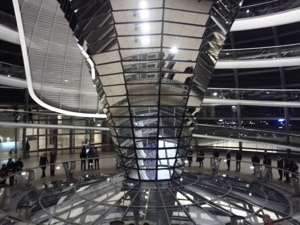 Tegel has security right next to the gates, much like some other German airports, meaning there's very limited facilities once you're through security.
The following morning we grabbed some food, did a short walk, and then hopped on the bus to Berlin Tegel airport. I'd forgotten how annoying Tegel is - there's no trains there, and not a lot of food options once you get there, but on the plus side Air Berlin were efficient and, thanks to our mobile boarding passes, we were through to the gate in around 2 minutes.
The flight to Frankfurt was rather uneventful and we landed right on time, and headed over to the car rental desk.
Heidelberg
Europa Park isn't really near any airports or major towns, and so we had decided in advance that the best way to get there was to hire a car and drive from a nearby airport the previous evening, stay at the park overnight, and then drive back right after the park visit.
After getting the car, we started down the autobahn towards Europa Park, with the intention of stopping off at the town of Heidelberg about halfway.
The autobahn is, for those who are unaware, one of the few road types in the world that have no upper speed limit - only an advisory one - and this makes it an interesting experience, especially for someone (like myself) who has only been driving a left-hand-drive car for around 20 minutes.
The advisory speed limit on the autobahn is 130 kph / 81 mph. Drive any faster and you'll be deemed more liable in an accident.
Fortunately, it's not that hard to adapt to a switch in driving position and road side, and we did a few bits at the car's top speed (97 mph) when the road was quite clear, but we spent most of the time going at a more moderate speed. Heidelberg was easy to find and park in, and so we got there pretty quickly and had a little wander.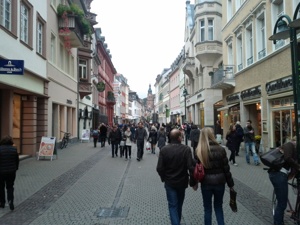 Heidelberg is a lovely place - it has a lot of surviving old buildings as it wasn't really bombed during the war. There's also some good bridges, a pair of funicular railways, a massive old castle and one of the longest pedestrian streets in Europe (Hauptstraße).
We had a walk around, over the bridges, up a small part of the northern mountain (Heiligenberg) and then stopped for some food before returning to the car and driving up the mountain instead. The view from the top is great, especially from the top of the small tower that stands in the remains of a 10th century cloister.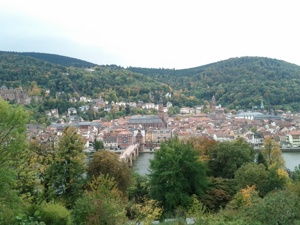 We then got back in the car for the remaining drive to the town of Rust and Europa Park. We had opted for the cheapest hotel in the park - El Andaluz - which wasn't cheap at all (it cost more than the five-star hotels in other cities). Still, it was right next to the park and we got early admission and free parking, so I won't complain too much.
Europa Park
Europa Park was somewhere I hadn't even heard of until David mentioned it to me. I've been to Thorpe Park, Alton Towers and Disneyland Paris before, but this small German town with a very large theme park had escaped me.
Mack Rides is most known for dark rides, water rides and wild mouse coasters, but they also make some 'big' roller coasters.
The park was started as a showcase for Mack Rides, a German ride manufacturer, but over the years has developed into a very large theme park indeed. There's around ten roller coasters, depending how you classify them, and about 30 or 40 other rides, ranging from walk-through rooms to rapids, ghost trains, boat rides, three transport rides and an observation tower.
It's a bit of a difference from Thorpe Park's 15 or so rides, and they're all packed very tightly, so there isn't too much walking either. Our favourite was Silver Star - a hypercoaster with a ridiculously high initial drop and plenty of airtime - but Blue Fire (LIM-launched coaster) and Euro-Mir (unique spinning type of coaster) both get honourable mentions too.
Silver Star is one of the view non-Mack rides in the park - it's by B&M.
One of the slightly terrifying thing is that all of the ride restraints are only lap-based, even on huge coasters like Silver Star. Obviously they're very secure, but since I'm used to over-the-shoulder restraints it was a very odd experience.
The Food Loop restaurant is also good - order your food from a touchscreen and it gets delivered on tracks to your table, including the occasional loop-the-loop (hence the name). I'd love to see one of those in London.
After the park, we got back in the car and drove back to Frankfurt airport to drop it off. For a while we were erroneously going towards Frankfurt-Hahn airport, but fortunately we realised before we went too far west.
Frankfurt
We got to our hotel - the Dormero - around 10pm, after a short ride on the S-bahn from the airport. The hotel was very modern, and included a free minibar to go with the free WiFi, as well as colour-changing lights in the room (I'm easily pleased). We went to bed exhausted from a day of theme park rides and driving.
In the morning, we left the hotel and headed straight to Main Tower, which is the only one of Frankfurt's numerous skyscrapers to have a viewing platform at the top. It's reasonably high - around 60 floors - and gives a wonderful view over Frankfurt.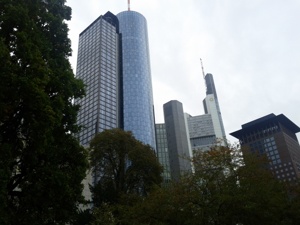 Frankfurt's skyscrapers are actually a lot less closely packed than they appear in photos - there's big gaps between them, along with parks and some old buildings. It all ends up being rather nice, as long as you don't find massive skyscraper areas 'soulless'.
Most of the museums in Frankfurt are on one road next to the river called Schaumainkai.
We walked through some of the city, across the river, and over towards the museums. We'd opted to visit the Museum für Kommunikation (Museum of Communications) which turned out to be a good choice - while the museum had very little in the way of English signage, a lot of the items here should be very familiar to those with an interest in technological history.
Among other exhibits we saw a giant post sorting machine (which was running), a couple of Enigma machines, what I think might have been a Lorenz machine, some of the first telephones, and a wonderful cabinet of phones and pagers through the ages (and yes, I own a pager, mostly because I find it hilarious).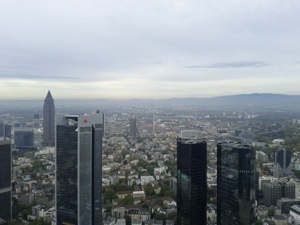 After a few more walks to see some more of the old buildings - the Dom, the university campus, and a few parks - it was time to head back to the airport and get our flight home. The carrier of choice for this leg was British Airways, and it went as well as the other flights, finally landing in Heathrow around 10pm after a very packed five days.
Conclusion
I'm really glad we upgraded from a weekend break to Berlin - while it's a lovely city, Frankfurt, Heidelberg and especially Europa Park were all worth seeing as well, and I feel like we managed to squeeze a lot in given the time. The quality of the buildings, monuments and museums in the towns was top-notch.
Given how well multi-city trips work I'm now pondering a road trip across some part of Europe - perhaps Scandinavia - but that all depends on costs and having some free time. Still, this trip is going to be hard to beat.