Back in 2010, Volodymyr and the team behind PyCon Ukraine reached out to see if I was interested in speaking at the conference, and my curiosity was piqued - I agreed to head over and see what Kiev was all about.
The newer, official romanisation of Київ is Kyiv - I use Kiev here as that's what most English speakers know it by.
Stepping off of the plane that first time back in 2010 was the start of one of the most interesting travel experiences I've had. For the first time, I was in a foreign country where I couldn't even pronounce written words, where barely anyone spoke English, and with big cultural and economic differences to my own.
The language barrier was particularly evident - look anywhere in Kiev and you'll see billboards, signs and shop windows all written in Cyrillic script. You can't even order things from a fast food place without pointing at the boards behind them.
Russian (spoken more widely in Kiev) and Ukranian are both written using Cyrillic characters - и sounds like "y", в like "v" and р like "r", for example.
These days I know a few words and can pronounce most given time, but back in 2010 I was much more lost - armed with only my Kindle on a phrasebook website and the apparently universal phrase "OK". Fortunately, my transport and accomodation were arranged in advance, otherwise it would have been a lot more interesting.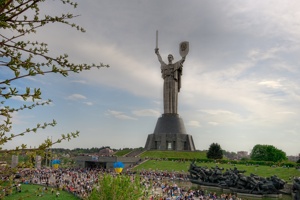 Like many cities in Eastern Europe, Kiev used to be inside the Soviet Union. Its heritage is obvious to those who are familiar with Soviet architecture - the large concrete flat blocks, the giant Mother Motherland statue on the edge of the city, and the marble-lined Metro stations. As you drive in from the airport the forest changes suddently into high-density flat blocks; it's odd, but for a city person like me feels weirdly right.
That's not to say Kiev is ugly - it certainly has its fair share of concrete flat blocks on the outskirts, but buildings in the centre are generally old or new enough to look nice, and there's some lovely new buildings, old monuments and Orthodox churches.
People can tend to be a bit short and to the point, but I suspect that's a side effect of me not really speaking the language (and something that's common in any large city anyway, London included). That aside, the city is obviously modernising, and all the usual shops and facilities are there.
While communicating in restaurants can be a bit difficult, pointing at the menu seems to be a decent way of ordering food, and numbers are at least universal. Supermarkets are a boon in a situation like this, too - you can generally recognise most of the food, pick it up, and pay with no hassle.
I'm a very cold-weather person - never rely on me for clothing advice. I haven't worn a coat in years and wore just a t-shirt last time I went skiing.
The climate seems to vary a lot, though I've only been in the autumn - even then, I've experienced everything from a chilly 5°C to a pleasant 20°C. Some kind of warmer clothing is probably advisable if you come in the autumn, though for me a fleece was plenty.
Getting around
The Metro is one of the best things about Kiev - those who know me will know that I'm a sucker for a good public transport system and while the Kiev metro isn't particularly far-reaching on the outskirts of the city, it's fast, frequent, quite simple to understand and incredibly cheap.
The metro fare is 2 UAH, or around 15p / 25¢, for any single trip.
Sure, it's a bit dated and rattles around, but new trains and lines are coming and some of the stations are wonderful. Arsenal'na (Арсенальна), is the deepest Metro station in the world and it can take several minutes to reach the platforms from the street on the escalators, while several of the stations are decorated in marble with busts lining the walls.
There are also buses, a funicular railway, and small privately-run minibus lines called Marshrutky (Маршрутки) which I've never taken, but I'm told are quite cheap.
Taxis are very common but their level of English varies widely - one driver I had spoke almost fluent English and chatted about Ukrainian politics during the drive, but most only know "OK", "airport", and a few other words. Be warned that the traffic in Kiev can be rather hectic - taxis are not for the nervous.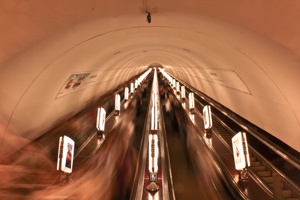 The currency of Ukraine is the гривня or Hryvnia (UAH), and at the time of writing 10 UAH is around £0.75, or $1.20.
For someone coming from London, one of the world's most expensive cities, the cost difference here is amazing - on the trip this year, I took out 200 UAH (£15 / $25) when I arrived, and bought two meals, drinks, snacks, and ordered from the hotel's room service and still had some left. That amount would probably just about buy me a single meal in London.
Also, in London it's almost impossible to get UAH from a bureau de change, but once you land at the airport there's cash machines on hand in every terminal, and they all have English options, so I'd recommend just using those when you land.
Tourist Attractions
There are quite a few things to see in Kiev apart from the city itself. Perhaps the most visible and imposing one is the Mother Motherland statue, a giant Soviet-era statue standing 62m (203ft) tall and looking out over the city.
There's a military museum underneath the monument as well as the opportunity to climb it, and surrounding it is an area of old tanks, military vehicles and a few monuments. It's not particularly close to any Metro station - the closest one is about a mile away - but there are buses that will get you a lot closer.
The other big attraction in the city is the giant Russian Orthodox monastery, situated quite close to the aforementioned statue. The brilliant gold domes are hard to miss, and the inside is wonderfully decorated. Women will, unfortunately, have to cover their head to enter - one of the Orthodox rules.
There's even some caves to go through from the very earliest stages of the monastery, containg relics and other items of interest - be warned, however, the caves can be hard to find, dark, and you can't turn around and come out.
There are a few other things to do around the city, such as visiting the Chernobyl Museum, and if you're adventurous trying out some of the local cuisine, which can vary from tasty to odd. I also was very pleased to be served a Chicken Kiev while in Kiev - some part of me had assumed it was just a randomly-named dish.
If you have a bit more time - and I never have - you might be interested in journeying north from Kiev to Chernobyl, the site of the infamous nuclear disaster. Trips should really be arranged via a tour operator, as there's a 30km exclusion zone you'll need to enter - more details are available from Wikitravel.
BA882 (LHR » KBP)
BA883 (KBP » LHR)
I've flown to Kiev on British Airways the past three years, and it tends to work out well. In that time, Kiev's main airport (Boryspil) has had a significant upgrade and a very shiny new terminal, mostly thanks to the Euro 2012 football tournament.
The Ukrainian border control has improved a lot as well - it used to be that you waited for ages in a long queue and had to fill out a slightly cryptic customs form, but these days you walk up, present your passport, and through you go.
British passports have the largest number of visa-free entry agreements in the world, which I do find handy sometimes.
The airport has no rail connection, probably due to its distance from the city, but you can get a bus or taxi in. Travel time is usually at least 30 minutes, and during busy traffic might be over two hours, so plan ahead.
The conference
PyCon Ukraine has grown significantly in the years I've been going, from a small single-track conference to a double-track conference with live video streaming. Some of the talks are in Russian, and while this is sometimes apparent from the talk title or abstract being in Russian, sometimes you won't know until the speaker starts talking.
The organising crew do a good job, however, and there's always some interesting talks. This year's highlights included some machine learning to try and predict closure times of Django tickets and an all-Russian presentation about PostgreSQL that was full of good advice (the slides were in English), and the occasional fun aside, such as rendering Mustache templates in the database using Postgres' JavaScript engine.
Conclusions
Kiev is a lovely little city, and provided you're willing to deal with an entirely different language and a bit of a change in culture it's worth visiting. It's not as easy a trip as Berlin, but if you come with a phrasebook in hand, memorise a few key words like да (da, yes), нет (nyet, no) and спасибо (spaseeba, thanks), you should enjoy yourself.