It was 2009 when I was last in the Czech Republic, to attend the very first DjangoCon Europe. It was a pleasant surprise - for some reason I hadn't expected very much of Prague, but it's really a beautiful city, and it turned out that I particularly enjoyed Czech food.
Thus, a return visit to the Czech Republic was a welcome opportunity and being invited to speak at RuPy provided a good one.
Getting There
FR8403 (STN » BRQ)
FR8404 (BRQ » STN)
Brno has a lovely little airport - if I had my pilot's license and enough European flying experience it would make a great place to fly to in a light plane. However, for commercial air transport your options are a bit limited - in fact, there's only one or two flights a day, most of which are to London - that's fine by me - and by budget carriers like Ryanair or Wizz Air, which I was less enthused about.
That's how I ended up in Stansted Airport looking down the terminal at the rather stark blue and yellow corporate colours of Ryanair. Incidentally, Stansted is a much nicer airport than Luton, and I'll definitely consider it in future if it's one of my options (it's about the same travel time from my house as Heathrow), but that didn't help to counteract what I'd heard about Ryanair in the media and from word of mouth, especially amongst the pilot fraternity.
Still, it was... a flight, and it got me directly to Brno in two hours. I had no legroom for the entire trip, there was a screaming baby for the first hour, and there was a giant queue to board. A pair of decent headphones, some music and the company of fellow programmers helped solve most of those problems, though. The return flight was similar, though Brno is a much more pleasant waiting experience than Stansted.
If you manage to find a flight into Brno directly there's a bus from the airport to the city centre, or a taxi is around 400CZK (£13 / $20). If you're not coming from London you can fly into Prague airport and get a coach directly from the airport to Brno that only takes around 2 hours, with free WiFi included.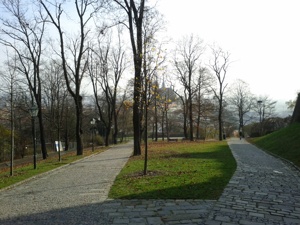 Brno is quite small - it has a traditional city centre with pretty, old buildings, and a large amount of suburban sprawl surrounding the centre. There's a decent system of trams and buses - a single trip is only 20CZK (£0.65 / $1), which is fairly reasonable, and they're quite frequent. However, most distances between venues or hotels are easily walkable, so the transport isn't very necessary.
Most English castles are ruins, so it was a bit odd to see one that was so well kept it had brand new roof tiles and newly-rendered walls.
There's not a great amount to see in the city - there's a rather large castle on a hill next to the city centre (Špilberk Castle), which boasts a decent set of walls and the deepest well in the Czech Republic. The city centre itself also has some wonderful old-world buildings, but apart from that there's not a large selection of typical tourist attractions.
A wonderful clock stands in Brno's centre square, however - the city has a historical legend about a general who made the city's clocks chime noon at 11am to fool an invading army, and the chronometer stands to represent the city's association with this trick and the "Brno Noon", which is of course at 11am. It's a reasonably large sculpture shaped rather like 30 St Mary Axe ("The Gherkin") in London, and the top rotates to tell the time.
There are some seasonal attractions as well, such as the firework competitions during the summer, and if you have access to a car there are apparently some nice castles in the surrounding countryside.
The cost of food and drink is very reasonable - beer is particularly cheap and plentiful (as it was in Prague) so if you like the local beer you'll be well satisfied. Typical meals run from 120 - 200 CZK (£4-7 or $6-10) and a drink is around 25 CZK (£0.80/$1.20).
On the topic of food, Czech food is really delicious (so long as you're not vegetarian, that is). Generally it consists of large amounts of meat, copious sauces, and an abundance of cream all combined into one dish, something which I can really get along with. It's a shame that Czech cuisine is harder to find in other countries - I'll have to try hunting down some in London.
The level of English comprehension seems to be alright - there was usually one or two people in the restaurant or shop who would understand you, and a decent amount of signage (especially tourist signs) are in English as well as Czech.
The Chronometer emits a marble into a public collection slot every day at 11am to mark "Brno Noon".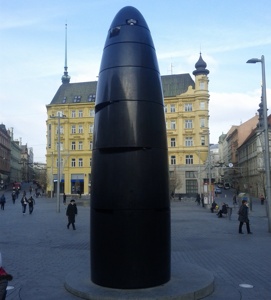 I always carry a spare Ethernet cable in my bag, but most hotels have plenty at the front desk if you ask.
I stayed in the Hotel Avanti, which was around a 5 minute tram ride or 20 minute walk from the city centre - it was a decent mid-range hotel, and with the fortunate addition of very fast internet once you'd plugged in an Ethernet cable (I got around 90mbit download speed at one point).
Getting to and from the airport to a hotel is pretty easy, and the taxis seem to be only slightly unsafe drivers (compared to Kiev, for example - the taxis there will encourage you to take out life insurance).
The conference
This is the first time I've been to RuPy - it's a nice experience having a mixed-language conference to speak at again (the last one I went to was probably FOSDEM). I can't help but feel that there was a bit of a Ruby bias among the attendees, however, given the talk attendance levels and the conversations I had while I was there.
The conference also started with an odd short, single-track day on the Friday - I'm not sure if this was a good idea or not, especially as it was in an entirely different venue to the two "main" days. Still, overall I did really enjoy the conference, and I got a good insight into what's going on over in the Ruby and JavaScript worlds.
Conclusion
I probably wouldn't recommend going to Brno for a city break - there's just not enough to do in the city itself - but as a stopping point on a trip or the start/end point of a holiday around the Czech Republic (there's quite a bit to see and plenty of delicious food to eat) it would be a great choice.
It's always nice to visit a city on a smaller scale, too, though I still prefer the extremes - a isolated cabin in the woods, or a huge bustling metropolis.