AA209 (SFO » LAX)
QF12 (LAX » SYD)
VA939 (SYD » BNE)
VA1117 (BNE » PPP)
VA1116 (PPP » BNE)
VA978 (BNE » SYD)
QF11 (SYD » LAX)
AA219 (LAX » SFO)
There's something immediately welcoming about Australia. I can't quite place what it is, but I suspect it lies in a combination of feeling like home (it's a lot more British than America is) and just how nice everyone is - shop assistants, bus drivers, people on the street and even the Quarantine officers, joking with me about the food I'd brought in.
Before this year, I'd never even been to the Southern Hemisphere, let alone Australia. However, I've been fortunate enough to go twice - first for PyCon AU, and then most recently for a holiday with my boyfriend.
Between these two trips, I've spent about a month in Australia this year, and so I thought I should continue the Trip Notes series with some juicy detail about my time Down Under.
In the course of my time there, I've warmed to Australia even more than I thought I would; it's a varied and interesting country with some wonderful people, and hopefully these notes will show you just a glimpse of that.

I'm particularly bad about stereotyping cities; when I went to Chicago, I was surprised at how modern and nice it was (in my head, it was associated with crime, gangsters and bad weather, though the latter is not necessarily a bad thing). Similarly, I had expected Brisbane to be a small, low-key city with a somewhat rural feel - after all, many Australians poke fun at it for being backward.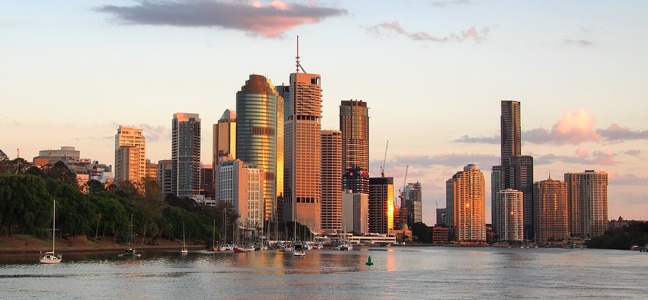 * I'm looking at you, Melbourne. You'd be surprised how much a train from the airport makes me like your city!
Fortunately, I was wrong. Brisbane feels modern and alive, and not backward at all. The futuristic skyline, the restaurants, the slightly ridiculous set of things on the South Bank and even the train from the airport* all conspire to make it punch above its weight for a city of only 2 million people.
It even has a great burger place in the form of Miel Container, which I definitely recommend if you're in the area, though there are some other great places to eat around as well (I'm just a sucker for a good burger).
It's no Sydney or Melbourne, but both it and the surrounding area (Noosa, Gold Coast, etc.) are great, so it's really not a bad place to base a holiday around. PyCon AU was held here, and we spend the first week of our holiday around this stretch of the coast, with the first and last days in Brisbane.
Byron Bay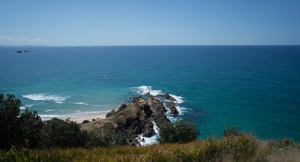 If you want the definition of the coastal surf town, then I think Byron Bay is it. Right at the top of New South Wales (about 2 hours south of Brisbane) it has huge sandy beaches, an astonishing amount of tourist accomodation and a very mellow atmosphere.
Despite teetering on the edge of being a tourist trap, it feels nothing like one; there are only a few tacky shops here, and in general there's a very happy feeling; while being in Sydney on a Monday morning makes you feel like you're the only person on holiday, here it feels like everyone is - even the people who live here.
We stayed at the lovely Byron Cove Beach House, and spent our time there lying on the beach, paddling in the sea, walking up to the nearby lighthouse and generally exploring. If we'd been here longer I reckon some surfing lessons would have been a good idea.
It's worth pointing out that we went to Byron Bay and Gold Coast during the early part of the season, so it's likely they're both a lot busier when it's high season. That said...
Gold Coast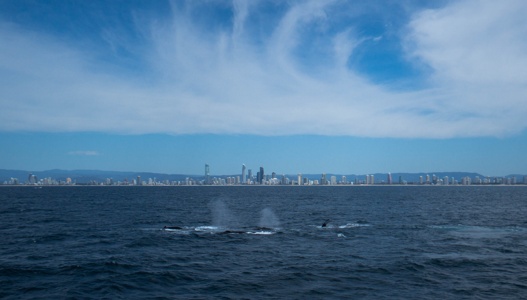 If Brisbane is sunny and modern, Gold Coast is sunny and futuristic. The skyline here gets higher and higher and then drops away suddenly at the beach, and everything feels modern and clean - it might be a bit soulless, but it's my kind of city design.
We stayed in the rather over-the-top Soul Surfer's Paradise, which is perhaps the nicest place I have ever stayed. We paid a fraction of the normal price (remember, we're there during low season) and got upgraded to a two-bedroom apartment. Not only was it offensively luxurious, the building also has a beachfront infinity pool complete with hot tub.
When we weren't basking in the lap of luxury, though, we went out whale watching (with Sea World Whale Watch) and visited Wet 'n Wild (water parks are not really something you can do in the UK, given the weather).
The whale watching was great, and we saw a pod of 8 or 9 (that's a lot to see at once!), as well as some tail slashing, breaching and blowhole snorts. If you're in the area I'd definitely recommend a trip.
Wet 'n Wild Gold Coast is a decent water park, too, with a particularly horrifying water slide that encloses you in a glass tube, then drops the floor away from underneath you as you plummet vertically down and then round a loop. We did it once, and once is more than enough.
Noosa
Noosa is the complete opposite of Gold Coast - a beautiful, unspoilt area of natural beauty. We did a two-day kayak & camping trip here with Kanu Kapers, paddling up the Upper Noosa River and camping in the Cooloola Recreation Area.
It's pretty remote; no power, no fresh water and no phone signal. You have to pack all the food and water you'll need for two days into the kayak, and you get a campsite all to yourself (it's a 20 minute walk through the forest to the next one, if there's even a path).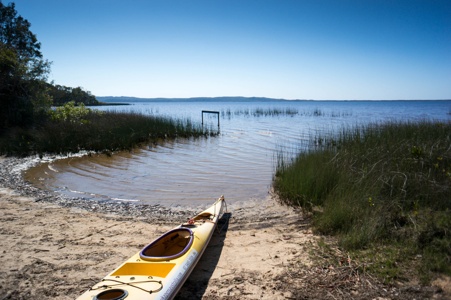 That said, though, it's really beautiful. The river twists through low-lying rainforest, with a couple of points to stop along the way and have lunch, and man-made structures are so unusual they stick out like a sore thumb.
The campsites are maintained by the National Park, and they're basic but functional - a flat camping area, a mooring point for boats/kayaks, and a compositing toilet. Wildlife is all around, but not really an issue; the brush turkeys make a lot of noise but run away if you get anywhere close, and the one snake we saw was swimming in the river and just avoided us.
We also did the 10km walk up to the Cooloola Sandpatch, which is a huge area of bare sand on top of one of the nearby hills. It's rather surreal - you walk through forest to get there, and then suddenly emerge into an area that would easily pass for a desert, with a great view of the land below (it's pictured at the top of this article).
Kayaking is a pretty physical activity, and after 2 days we were tired and sore, but it's still great fun, and quite easy to pick up. We also stopped by Australia Zoo on the way there, run by the Irwin family, and it's a great zoo - if you want to go and pet very friendly kangaroos, or see crocodiles snapping, this is the place.
Airlie Beach and the Whitsundays
If Noosa and the Gold Coast are quite warm and tropical, the Whitsunday region takes it to another level. It has stunning beaches, pure blue water, and the Great Barrier Reef within easy sailing distance.
Our five days here were mostly spent on the water; from the Great Barrier Reef trip, to the sea kayaking and travelling on the Scamper to go and camp on the pure white sand of Whitehaven Beach.
Remember, you shouldn't fly for a while after you go SCUBA diving, as it can bring on decompression sickness. The helicopter was very low altitude, and so fine
While it was by far the most expensive part of the trip - up here, spring is the high season, as they have tropical monsoons and cyclones in summer - it's truly amazing. The highlight for me was going from a SCUBA dive at the Great Barrier Reef to a helicopter flight over it all in one afternoon; it really is as pretty as people say.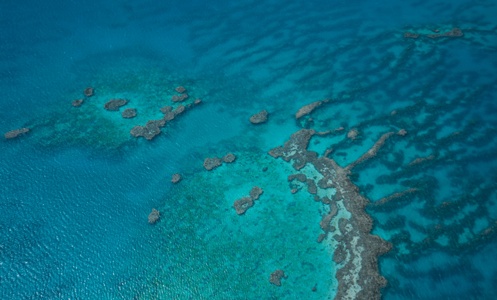 A goanna is a monitor lizard, usually a metre or two long.
Camping on Whitehaven Beach was also fun; the Scamper takes about 90 minutes to take you out there (and on the way out, hit some decently-sized waves for how small it was), but the beach is so white it's hard to look at without sunglasses, and the campsite is pleasant and full of inquisitive goannas.
On the last day, we drove the two hours down to Eungella National Park to go and see platypus in the wild, and while it took us an hour and a half of waiting, we saw one eventually! On top of that, the views from Eungella down the valley are astonishing (it's on top of a mountain).
The funniest thing for me about this part of the trip was getting there - we drove back to Brisbane from Noosa along the Bruce Highway (a gloriously Australian name for a road), flew two hours north to Proserpine, and pulled out from the airport onto... Bruce Highway. There really aren't many roads in northern Queensland!
Melbourne
Melbourne wasn't part of my second trip, but I popped in on the way back from PyCon AU in Brisbane. It's a lovely place, with a lovely feel and, apart from a connection to the airport, great public transport.
I stayed in an AirBNB in Carlton, which is a nice little area with a lot of restaurants, and usefully close to the Melbourne Museum (and the third largest IMAX screen in the world, though the interior decoration is from when it was built and has "world's largest screen" plastered everywhere).
It's a nice place, with a lot of nice restaurants and places to shop but not terribly exciting as a tourist (though I did enjoy the Dreamworks exhibition at the ACMI, and a trip up Eureka Tower). I was also impressed how affordable it is - a 75th floor, two-bedroom apartment in Eureka Tower cost less than I'm paying for my rent here in San Francisco (though that's more a commentary on how expensive San Francisco is, I suspect).
I'd like to spend some more time there, and do the drive along the Great Ocean Road that everyone was recommending.
Sydney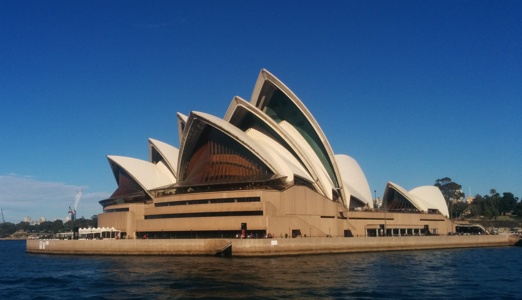 There's something particularly special about Sydney. I'm not sure if it's just how iconic it is - you can stand in The Rocks and see the Harbour Bridge and the Opera House in the same view, and get to Bondi Beach in about 20 minutes - or how livable it feels.
I think the main reason I class it as livable is that it reminds me of London more than anywhere else I went - metropolitan, huge and bustling. Melbourne is nice, but it doesn't have the same grandiose feel that I got from Sydney, and that's something I'm particularly appreciative of.
It's got food, entertainment, attractions, museums, and plenty of other stuff close by - you can even get a train to the Blue Mountains easily, and it always gave me the feeling of having something more to do.
Being able to get a train to mountains scores high for me; Portland, OR does well here too
If you're there for a brief visit like we were, I'd recommend a visit to the National Maritime Museum (the boat tours are most of the value, especially the submarine), a ferry ride across to Manly and its beach, and a nighttime walk along the riverfront near the Opera House. You can even have a kangaroo burger at Moo Burgers if you're so inclined (they're really quite tasty).
Conclusions
Australia is a great place. It's a long trip to get there (14 hours from San Francisco, and 24 from London), but spend two or three weeks there and it's definitely worth it.
(If you want to see our itinerary for the second trip, you can view the timeline diagram to get a better idea of how everything fitted together.)
The lush rainforests and tropical paradises were quite surprising to me as well - in my head, Australia was a lot more dusty outback and a lot less green. In reality, there's just so much forest, coastline and hinterland that I can't even imagine how big the dry centre of the country must be.
While Japan and New Zealand are next on my list of places to go in that part of the world, I'll definitely go back to Australia one day, and keep seeing all the things that it has to offer - as well as have a few more kangaroo burgers.