AS311 (SFO » SEA)
AS123 (SEA » FAI)
AS124 (FAI » SEA)
AS320 (SEA » SFO)
In my somewhat ambitious goal to visit every one of the United States of America, there are some that I am more excited about than others, and Alaska was probably top of that list. I'm a fan of cold, snowy, remote places, and there's probably no other state that matches that more exactly.
As it was early winter, I chose to go as far north as you can go from San Francisco in a single flight connection - Fairbanks, Alaska's second-largest city. The travel time including a change in Seattle was only about seven hours; I've definitely had worse, and you're going pretty far north in that time.
I'd rented a 4x4 pickup truck for the visit - not because I wanted to look the part driving around Fairbanks in its -20°C (-5°F) November weather, but because after my first night at a downtown hotel I'd chosen to book a night at each of two "dry cabins" run by Alaska State Parks.
A dry cabin is, as the name might suggest, one that has no running water - and the other facilities are usually similarly basic. Both cabins had an outdoor vault toilet ("vault" means "a slightly more advanced hole in the ground"), wooden sleeping platforms rather than mattresses, and only a small wood-fired stove for heating.
I'll get into more details about them in a bit, though - first, let's talk about Fairbanks itself and my first night there.
Fairbanks
If you've never been to a near-Arctic city in the winter, the first thing you'll notice is how hard it is to breathe once you step outside. It's not just below freezing, it's so cold the moisture in the air itself freezes into tiny ice crystals.
Arrive without sufficient winter clothing and you're going to be in for a rough time; pack enough layers, though, and you'll find it's relatively easily handled. The key things to focus on are the extremeties - a warm hat, boots, gloves, and a face mask or scarf if it gets particularly cold.
It can get so cold in interior Alaska that cars won't even start. They all have electric plugs hanging out the front so you can plug them in overnight to keep them warm!
Talking to a local on the flight up there, I was amused to learn that a lot of Alaskans (of course) don't want to take their heavy winter clothes with them when they fly away to a warmer destination, so there's often a brisk walk through the frigid outside air to get to them in your car once you land (and then another few minutes to wait for the car to warm up).
The city itself is small and has a lot of that traditional American urban sprawl - I think it has the most northern out-of-town shopping centre I've seen - but it has all the facilities you'll probably need and friendly locals. It's still definitely America in that you'll need a car to get anywhere, but the roads are reasonably well-maintained (I suspect nobody can beat Norway on that count) and all the main routes are cleared of snow.
I didn't spend too much time in Fairbanks itself - I grabbed some food that first evening and headed to my hotel to get some sleep - but what I saw of it was nice enough, and there were some impressive Christmas light displays already.
If you're into silly records, Fairbanks boasts the world's northernmost branches of many well-known American companies, such as Taco Bell and Walmart. I visited the latter to pick up some key supplies that aren't allowed on planes - butane, and some firestarting materials - before I headed out the next day to the first cabin.
On the way there, I passed through a town called North Pole, where "the Spirit of Christmas Lives Year Round!". A decent amount of it is Christmas-themed, including a large set of candy canes gracing the gates of the welding company on the way in; it's all a bit surreal.
Salcha River Cabin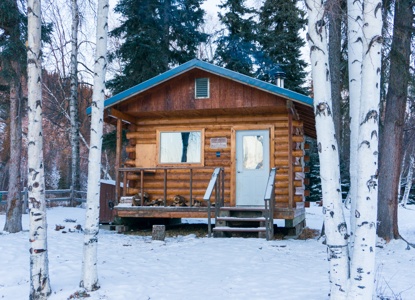 The Salcha River cabin is located about an hour's drive from Fairbanks along Alaska Route 2, mostly passing through trees and woodland but with a few miles of airbase and "No Stopping, No Photography" signs. It's situated on the riverbank of what is, in summer, a boat launch and camping area. in winter it's closed and no snowploughs visit, and the river freezes over, leaving the cabin more isolated.
Had the snow been deep it would have been a few hundred metres to snowshoe to the cabin from the main road, but there was only two or three inches of snow I could drive the pickup through the snow-covered car park and right up to the cabin, and headed inside to start on the most important thing - getting a fire going.
Fortunately, I've been to enough remote cabins lately that I'm getting better at working wood-fired stoves, and I had a roaring fire going relatively quickly. After about half an hour, the cabin got above freezing, and about an hour later it was a nice comfortable temperature.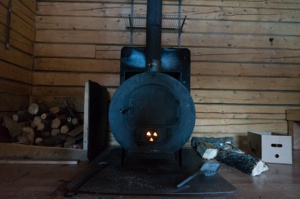 The cabins don't come with firewood supplied - you're meant to leave some for the next person to start a fire, but it won't be enough to get you through a day - so I took the provided saw and axe and headed outside to chop up some of the stack of large precut logs into useable firewood. I'd also brought some with me just in case, though buying firewood at Walmart just feels wrong.
The cabin is quite small - a room big enough for the stove, a table, and a pair of stacked sleeping platforms, and not much more. Smaller means it heats up quicker, though, and there was plenty of room for just me and my bags.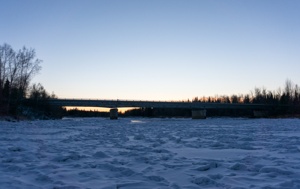 I went for a short walk to explore the local area, and after verifying the ice thickness, ventured onto the frozen river for a few minutes, wearing snowshoes to spread my weight just in case, to get a good look at the river valley.
I asked the local I sat next to on the plane how he felt about the 24-hour daylight/twilight in summer. Apparently, you deal with it via force of will and heavy curtains.
Soon enough it was dinnertime and the light started to really fade; while the sun sets at only 3pm in November because of the high latitude, that also means that you get another two hours or so of twilight before things start to get properly dark. The entire landscape is bathed in the warm colours of sunset for a good hour or two; the long night is almost worth it just for that.
I passed the time with some books, podcasts and a couple of TV shows, and turned in for the night. Unfortunately, small manual wood-fired stoves are not really great at lasting more than 4-6 hours on one load of firewood, so I had to get up twice during the night to add more firewood and get things warming up again.
The cabin (like most I've been to) did not have great curtains, so I woke with the morning twilight around 8am, made myself breakfast, and then packed everything up into the truck to head to Chena Hot Springs before I went to the second cabin.
Chena Hot Springs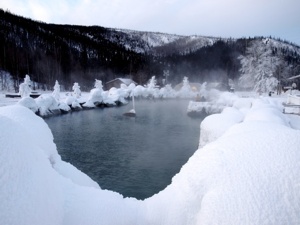 The outdoor pool is limited to people 18 or over for safety reasons - it's pretty deep and pretty hot.
Chena Hot Springs is a natural volcanic hot spring, with a small resort built up around it. The main hot spring itself is very similar to a Japanese onsen, with a large outdoor rock pool fed directly from the spring, and an indoor pool and hot tubs for those who don't want to venture outside. Entry was $15 when I went, with an extra $5 for towel service, both good for the entire day.
I've been to hot springs before, but it's a very different experience entirely when the air temperature is -20°C (-5°F). The door to the outside had large icicles overing it on the inside, and there's a 30m walk in the considerably sub-zero air before you reach the warm, 40°C (105°F) waters of the hot spring itself.
The temperature gradient is so significant that even while you're submerged up to your neck in the spring, any water in your hair is freezing solid, and water vapour is rolling off of the surface of the spring in thick clouds. It's one of the stranger experiences I've had while bathing, and I can now say I have walked around in the Alaskan winter wearing nothing but swimming shorts, even if it was for only about 60 metres total.
The resort also has an ice museum, which I went along to see while I was there. There's some stunning ice sculpture inside from two of the world's leading ice sculptors who are based there, along with four hotel rooms made of ice. The whole thing is housed in a large building so that it survives duing the summer and so is kept only slightly below freezing. This means you get the confusing result that it's considerably warmer inside the ice museum than it is outside during winter.
I spent a few hours at the resort, warmed myself with a nice hot chocolate, and admired their long-range wireless internet link back to Fairbanks, before getting back in the truck and heading only about 30 minutes back along the road to the hot springs to my second cabin.
Hunt Memorial Cabin
The Hunt Memorial Cabin is located down a short 100m road directly off of the main Chena Hot Springs road; again, the snow was shallow enough I could drive from the main road straight up to the cabin.
It's considerably larger than the Salcha River Cabin, with a spacious ground floor and a large sleeping loft, and is directly on the banks of the north fork of the Chena River. The river is not entirely frozen here, which I suspect is because it's partially fed by the volcanic hot spring.
I had to substitute sunglasses for safety goggles while chopping wood. Yes, I'm that safety conscious.
It also had a nice large wood stove, which I got going pretty quickly, and a fallen tree outside that was already half chopped up into more firewood - I continued the job and got enough for both me and a decent amount to leave for the next person.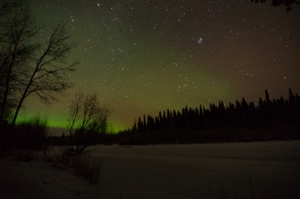 The Northern Lights are beautiful, but they do always look clearer in photos than in real life.
I spent the evening noodling over my next game idea and doing a bit of programming for it, watched some TV over dinner, and then headed outside to do some stargazing as the space weather report had been "moderate" that afternoon. Sure enough, I saw some dim Northern Lights and a wonderfully clear night sky with the band of the Milky Way clearly visible, and plenty of familiar constellations, including a very clear view of the constellation on Alaska's state flag, Ursa Major.
There is nothing quite like sitting outside looking at the stars while the aurora glows overhead; it's very peaceful and humbling at the same time. I spent over an hour out there, and even as I write this I miss it.
Sure, it's cold, but take a warm drink and dress well and I could probably gaze at the night sky for hours. I spied a couple of shooting stars and even a passing satellite flare while I was out there.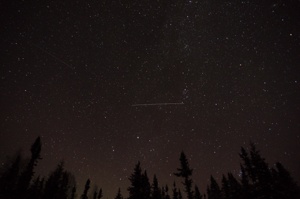 The toilet came with a foam seat block to use if you wanted something 'non-stick', but I didn't realise what it was until the next day.
I went to bed around 9pm, getting up a couple of times during the night to stoke the fire, though having a sleeping loft is nice as it's naturally warmer up there than in the rest of the cabin.
What isn't as nice is the prospect of going out to use the outdoor toilet in the middle of the night, when temperatures have dipped down to -25°C (-13°F). I won't elaborate other than to say that speed is rather important, and that you really don't want to sit on the seat or you might stick to it a little.
The final day was similar again - a bit more programming, some more reading, and a short walk along the riverbank before getting back into the truck for the hour-long drive back into Fairbanks and heading back to the airport, where I bemused a TSA official by actually understanding the prohibited item rules and taking my matches in hand luggage.
Safety Note
At this point I would like to stress that any sort of travel to remote areas carries an intrisic danger, and the conditions in Alaska during the winter substantially increase this. The outside air temperature means that without a heat source or the correct clothing you will likely die from hypothermia rather quickly.
If you want to make a similar trip, ensure you have backup plans (for example, both cabins were close to a moderately busy road and I had my satellite communicator on me) and an understanding of the conditions you are likely to face. Driving on icy roads is also dangerous (4WD is not a magic solution), and frozen rivers are especially dangerous as the ice thickness varies near the middle.
That said, I encourage everyone to go and experience this part of the world; just maybe don't go straight to a remote dry cabin if it's your first time.
Reflections
I thoroughly enjoyed my time in interior Alaska around Fairbanks; it's a beautiful place, and accessible enough that you can do a reasonable amount over a four-day weekend. The relatively small amount of snow on this visit made travel easier, but it also meant I did not manage to go snowmobiling as I had originally planned. I'll have to try to work out a way to take a snowmobile up the White Mountains to one of the cabins they have up there.
I also want to visit in summer, when the landscape changes dramatically, and the more remote areas are a bit easier to reach (though some of the national parks are still only accessible by bush plane or boat, so I probably need to learn how to sail).
I can't deny that a small part of me considered if I could live there - the mortgage for a small house near Fairbanks is less than I pay for parking in San Francisco, after all - but I like my big cities just too much. That, and it's a long way from anywhere else; unlike northern California, where you can get to desert, snowy mountains, forests, grasslands, and beaches with just a few hours of driving.
Still, I'm definitely going to go back to Alaska; it's just a case of when and where. There's plenty more to see in the Last Frontier.
The image of Chena Hot Springs is from PunkToad on Flickr