CX893 (SFO » HKG)
CX474 (HKG » TPE)
CX511 (TPE » HKG)
CX870 (HKG » SFO)
I'm not sure I really knew what to expect when I was on the plane to Taiwan. It's somewhere I only really knew about incidentally, like when Taipei 101 was crowned the tallest building in the world, or that lot of my electronics have, engraved in small text, the words "MADE IN TAIWAN". Still, the best way to know a place is to go there!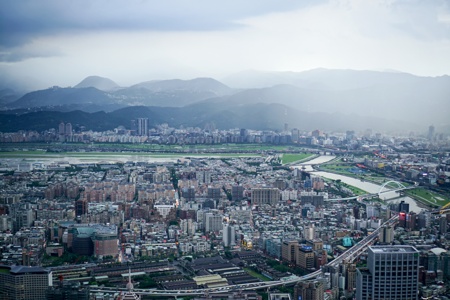 I had been invited by the fine people of PyCon Taiwan to give a keynote, and with my slides completed before I left San Francisco, I quickly found myself on the train from the airport, Taiwanese dollars in my pocket and with a whole afternoon to spend before the conference started the next day.
You can get an RFID travel card from a machine at the airport station, and it'll work on pretty much anything.
As I navigated through the MRT system to a restaurant to get some lunch, the bustle and the flow of people immediately felt much like any other big city I've been to. Sure, the city and its architecture are a little bit less fancy than in New York, London or Tokyo, but the people are friendly and the transport network is beyond that of most American cities (despite the fact that the first line opened only two decades ago).
I found a small restaurant and decided to take in some of the local food as well as reading up on the rather tumultuous history of Taiwan; it's somewhat unique, after all.
Food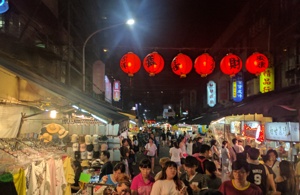 Food is, for me, one of the things that defines a city, and Taipei certainly has no shortage of it. The city's night markets are one of the things I had heard about before going there, and wandering through them is an experience in both smell, taste and touch, as you push through throngs of people all excitedly ordering from a series of menus that I, and my extremely limited knowledge of Chinese writing, was unable to understand at all.
There's plenty of other places to eat as well, though, and thanks to both the conference organisers and my own wanderings around the city I was very full by the end of my week there. Taiwanese food is in abundance, of course, but there's plenty of cuisines from mainland China, Japan, and other surrounding areas, as well as western food if you go looking for it (I even enjoyed a nice burger at a small place called Kiwi Gourmet Burgers).
My general approach when faced with night markets or the local food stands up in the mountains was to point at things that looked tasty, and this generally resulted in a delicious meal. I have to give extra marks for the popularity of sausage stalls everywhere that will sell you skewers of delicious pork sausage at a moment's notice for very little money indeed.
Bubble (or boba) tea was invented in Taipei, and now there's a shop every 50 metres or so.
I can't end a food section without talking about one very important thing - milk tea, and specifically bubble tea. As a British person who now lives in America, my relationship with tea has gone from mild disinterest to significant craving, and the variety and abundance of tea in Taiwan is astonishing. It's not just bubble tea either, though of course this is where it was invented; even the normal, non-milky iced tea is made and sweetened just right, to a point where I wish someone could set up a pipeline from Taiwan to my apartment in San Francisco.
The first three days of my trip were spent at the conference, meeting the Python community in Taiwan and listening to talks (and attempting to live-translate the slides of some that weren't in English). On the second night, though, and for two days afterwards, I ventured out in search of sights and anything else that might be interesting.
That second night was framed around a visit to the Guang Hua electronics markets; not only are there two buildings with multiple stories of shops hawking everything from USB cables to 3D printers, there's a whole load of stalls and smaller shops around the base as well. Taiwanese brands are very well featured here, to the extent that we were left wondering how one building can support over fifty shops selling the same Asus laptops, but there's also some gems among them, like the super-narrow shop we found that sold old oscilloscopes and electronics components.
That same night, we wandered down towards the area of Taipei 101 looking for food and deliberately tacky souvenirs, and after slurping down some beef noodles wandered across one of the most bizarre festivals I've ever seen. Titled "Taiwan Color Stage Fest", it featured a series of rather bored-looking women pole-dancing on several hundred metres of garish LED stages, as bassy music thumped away in the background. The locals I ran into there and ones I talked to afterwards both had no idea what it was, but it was certainly an unexpected surprise.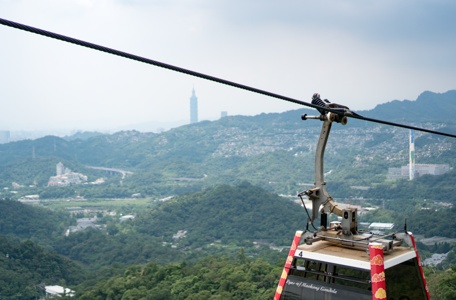 After the conference was over, I had a day to go around Taipei itself before a day trip down to Hualien and the famous Taroko Gorge. I started out by heading down towards Taipei Zoo and taking the Maokong Gondola up into the mountains to the south of Taipei. The gondola climbs almost three hundred metres up and goes out into a rather rural area, the city giving way into tree-covered mountains interspersed by temples and innumerable tea rooms. I enjoyed a nice lunch from a food stall at the top of the gondola, before having a walk around and then heading back into the city again.
I spent the afternoon walking around the centre of Taipei, taking in some of the impressively different styles of architecture, before whisking myself up to the top of Taipei 101 for a bit of tourist trap sightseeing. And I really do mean tourist trap; I've been up many tall sightseeing buildings in my life, but this is the first one I've seen with an entire floor of the sightseeing section dedicated to selling jewellery. The view is fantastic, however, and the lifts are impressively quick. Another visit to a night market for a snack, and then it was back to the hotel for a 6am rise to get to Taroko.
Taroko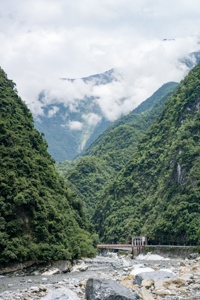 I've been lucky enough to go to many places of natural spectacle over the years - Niagara Falls, the Grand Canyon, the Great Barrier Reef - and Taroko Gorge rivals them all. I've been to very few places that inspire pure awe, and the sight of the Liwu River cutting through the marble cliffs of Taroko is one of them.
I cannot fit a guide to the ticket system in here, but you have to order seats on one site but pay for them on another!
When I was initially planning my trip, Taroko kept coming up in guides to Taiwan, and so I added a day to my itinerary to go down and see it. The conference organisers helped me out with when and where to book the trains - the fast train down to Hualien takes just over 2 hours, but they sell out quickly so you need to book a seat in advance - via one of the most confusing and puzzling train booking systems I've ever encountered.
Once you have a ticket, though, the train down is indeed fast and efficient, with the train speeding through mountains, along the coastline, and via some impressively long tunnels before dropping you off at Hualien station. This definitely isn't Taipei any more; it's noticeably more rural, the skyline quickly giving way to the coast in the distance, though it's still plenty busy when a train arrives.
You have a couple of choices to get yourself to Taroko Gorge from Hualien; there's a bus that goes to most of the major stops, but it's only every hour or so. The local favourite is apparently to rent a scooter and putter the half-hour north along local roads before winding your way up the gorge itself.
While I love driving mountain roads on two wheels (though preferably with more than 50cc of engine capacity), the hot, rainy weather and my time constraints led me to rent a car from the Avis branch right outside the station. International Driving Permit in hand, I was quickly in possession of a rather normal Ford Focus and motoring up the local highway towards Taroko.
Driving in Taiwan is not too different to elsewhere, except that drivers and pedestrians both have a rather impressive amount of self-confidence and will happily go where they please, only mostly staying within the bounds of the roads and signs. A decent amount of patience, though, and a willingness to work with other drivers to get around obstacles, and it's a fine drive.
The weather meant that the entrance to the gorge was shrouded in cloud, the already-impressive size of the place made even more breathtaking as I wove my way through it, cliffs seemingly disappearing up into infinity, mountains almost floating in the sky as cloud ringed their bases. Some research the day before had yielded a list of recommended trails along the gorge, and instinct led me to start at the top end of the gorge and work down, trying to avoid the numerous coach tours.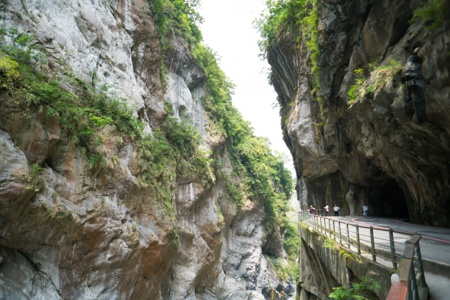 As you drive along the gorge, the one-way, two-lane system becomes one lane in each direction before giving way into single-track roads with passing places as you climb further into the mountains. Taroko National Park is more than just the gorge, and I drove 30 kilometres from the entrance up into the base of the mountains, the road hugging the cliffs next to a very steep drop but an equally impressive view, letting you see for miles over the mountain range, the clouds covering the valleys below.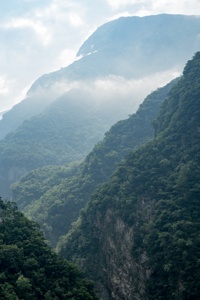 I stopped here for lunch, enjoying my sandwiches up among the clouds, before starting back down on my series of short hikes. Taroko has quite a few exciting trails, though the rainy season was ending so many were closed for repair due to mudslides or other problems. Still, even though I didn't manage to make it to the waterfall curtain cave, the hot springs, or the impressively long suspension bridge, it was made up for by the nature and the landscape itself. There's nothing quite like standing on the edge of the gorge as the walls tower above you and the river thunders below, listening to bird calls and watching butterflies dance in the air around you. And I did at least find one, smaller, suspension bridge I could go on.
I'd love to come back to Taroko when it's a better season, and not only are more of the paths and trails open but the weather is a bit more amenable to hiking. I'm a cold-weather person (after all, I willingly visited Alaska in the winter), and so an average temperature of over 30°C and relative humidity of over 80% meant that anything more than a couple of kilometres round-trip was too much for me.
After a day in the gorge, I drove back down to sit on the beaches of Hualien and take in the dramatic coastline while waiting for my train home. As I watched the clouds drift out of the mountains and towards the Pacific, a local jogger stopped and, with his limited English and my even more limited Mandarin, my impression of the Taiwanese as friendly and welcoming people was secured as we spent a few minutes hand-waving and trying to chat about travelling solo and visiting other countries.
In Conclusion
Taiwan's status as a nation-state is disputed, but it operates as a de-facto country; separate border, separate government
I wasn't sure quite what to expect of Taiwan, and I found a country* that is exciting, beautiful, full of delicious food and welcoming people. It is still growing and developing, for sure, but already has so much to offer.
I got only a brief, week-long experience of the place, and I didn't even go to the south or west of the country, but from what I've seen I would happily return - though maybe at a time of year when it's a little bit less hot!