Let's talk about travel. I travel quite a bit - I'm sure there are plenty of people who jet around the world more than I do, but I've been lucky enough to have many fun adventures of my own, often linked to meeting the many wonderful members of the Python community around the world.
Over the last few years, I've collected a set of travel gear that I've grown to really like, and I wanted to share some of what I've learnt about travelling as well as my favourite gear I've picked up along the way.
Air Travel
The large majority of my travelling is via air travel, and I've somehow clocked in over a million kilometres in the skies! I sometimes even get to spend points on business-class seats, though that is, as always, nowhere near as often as it should be. Maybe one day I will fly to Australia without folding myself up into an economy seat for 14 hours - here's hoping.
I'm probably unusual compared to a lot of US residents in that the majority of my air travel is international, not domestic. This is probably why I tend to only fly with hand luggage - specifically, the Patagonia MLC. International flights tend to have a lot less jostling for overhead bin space.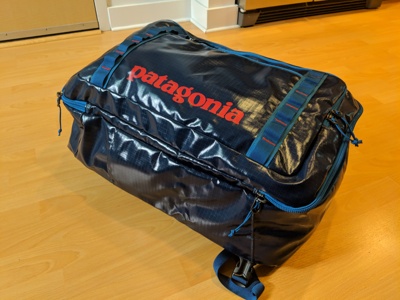 The MLC is flexible enough that it will exceed the baggage sizer limits if you really stuff it full. Sometimes airline employees won't care, though, as it's not a rollerbag.
I've owned two different editions of this venerable bag over the years, both a fabric one and now their "Black Hole" edition. The build quality of the bags is great; my original fabric bag did over half a million kilometres of travelling and only showed some light wear. The main reason I upgraded to the Black Hole bag this year is because it's much more waterproof.
Its name, MLC, is shorthand for Maximum Legal Carryon. That's a long-winded way of saying that it's precisely the same size as the sizer guides for most airlines for carry-on luggage. This is, I'm sure, already making the carry-on haters itch.
But, because it's soft, it doesn't end up with the same fate as those annoying rollerbags that everyone tries to jam into the overhead lockers - it can flex and squash and generally fit in the spaces that are left behind.
It has two modes - backpack, with a pair of decent (but not hiking-grade) shoulder straps, and a more streamlined mode where the straps pack away, which is what I use to check it into the hold when it won't meet airline requirements (usually on weight).
It also has an abundance of pockets and places to organise your clothes; I tend to leave it semi-packed with my travel essentials, and I can easily do a week's trip just with it, two if I push. The feeling of just walking off the airplane, ignoring the luggage carousel, and heading into your destination city is fantastic.
Luggage and Organisation
Given that I usually travel with just the MLC, it takes a decent amount of organisation to fit everything in there. My strategy for this is two-fold - luggage cubes for clothes and soft items, and Cocoon Grid-Its for electronics and cables.
There are lots of brands of luggage cubes to choose from, and I just went for the cheap Amazon Basics ones. Their key purpose is to turn a bag full of loose clothes into a bag with four or five cubes of clothes, which is a good deal easier to look through, especially at security checkpoints.
It also means that you can just move the cubes out of the bag into a hotel room's drawers when it comes time to unpack, and use them to contain dirty clothes if you're doing multiple stops. In short, they're great, and doubly so if you're doing a trip where you're staying in multiple places.
Grid-Its solve a similar type of problem, but for cables and small electronics. Their rubber-and-fabric mesh holds things sturdily, and two of the larger ones slide well into the long, thin inside pocket of the MLC. I have one packed full of chargers and recharging cables, and the other with my other electronics, like a Chromecast and router.
Power
So let's talk about power. The most recent development here for me is that now everything I travel with takes either Micro-USB or USB-C, meaning that even if I manage to forget a specialised charger (which I have done, twice), I have four or five things that emit USB power and it's easy to buy more at most destinations.
As a quick list, this includes my phone (Pixel 3), laptop (Surface Book 2 or Surface Go), console (Nintendo Switch), portable speaker, travel router (see below) and other small items. The only missing link is my tablet - I have a slightly older iPad Pro, because having a tablet with LTE built-in is important to me - but if and when I upgrade to the shiny new iPad, that will be fixed too.
The key thing I've found with power is having duplicates of everything I have at home and keeping the set of duplicates as a permanent travel set. This is easily done for USB-C and USB Micro cables, but a little more expensive for Surface chargers and Garmin watch cables. Still worth it, though.
I also have a couple of goes-into-anything power adapters. There's so many of these a brand recommendation isn't worth it, but make sure it has at least 4 different types of socket it can plug into and it has some USB ports on the bottom to charge with. It means you basically never need to worry about digging out country-specific adapters again.
Finally, while I travel with a couple of USB batteries, my favourite is the Omnicharge Omni 20. It has an integrated AC power socket, which is handy for powering anything electronic if you have no other choice, as well as direct DC power output for laptops, and the ability to safely charge off of any DC input - 5 volts up to 24 volts. You can hook that thing up to a solar panel and it'll regulate itself if you need it, all while being well inside the limits of lithium-ion batteries that are allowed on airplanes.
Data & Internet
Having fast data everywhere for no extra cost is the dream, and for many years I thought I'd never see it - my old Kindle Keyboard was the only device that had free global internet, and I took it everywhere as a backup, even using it on my first trip to Kiev to slowly load a phrasebook to try and order food.
These days, though, I am a happy user of Project Fi, which, for US residents, offers internet in pretty much any country you might travel to for no extra cost. T-Mobile US do this as well, but they limit you to 2G speeds, whereas Fi gives you 3G or LTE depending on the country. If you live elsewhere, offerings are less good, but they're improving. Someday, I'm hoping that Iridium Next or another satellite solution will get cost-competitive enough to make it possible to get internet access anywhere on Earth.
Until then, I also take an InReach communicator with me whenever I go somewhere that's relatively off-grid (where I'm unsure I'm going to have a mobile signal). They don't offer much in the way of data services, but they offer weather for your current location, text messaging, a live GPS-tracking map for others to see, and an SOS button, all of which are quite reassuring when you're a day's kayak up an Australian river or camping in the middle of Death Valley.
Project Fi used to be limited to just Pixel devices, but now works in most phones (but won't do carrier fusion in the US).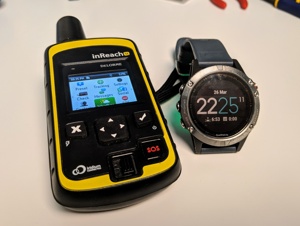 I've also hooked up some basic scripting to Twilio so I can text from the InReach to a special SMS number and get the latest news headlines and a few other basic functions, like geolocating an address to GPS coordinates. I should probably make that service public at some point, and add the mode I've been meaning to for years that lets you also do the same thing via DNS queries, so it can be used even on locked-down internet connections.
I also carry around a portable internet router, but I'll discuss that more below in Entertainment, as that's primarily why I have it around.
Watch
I like having at least a semi-smart watch, and so I have a Garmin Fenix 5. It has some smart features, like media control, all-day heart rate monitoring and notifications, as well as being an incredibly capable sports watch by itself. It has GPS waypointing if you need to find your way home in an emergency, and the newer models even have built-in maps.
More important than any of those features, though is the battery life! The model I have will last a good 3 weeks on a single charge, which if you are coming from Wear OS or Apple Watch, is incredible. The screen is always-on and transflective, so it's readable in sunlight, too.
The Fenix 5 is an expensive watch, and many of the plus points here also apply to its cheaper brethren, like the Vivoactive.
The ability to just walk out of my front door for a two week trip and not even have to worry about bringing a watch charger with me is great (I do, of course, have one in my Grid-It of charging cables just in case).
Entertainment
Finally, an unusual topic I don't see addressed a lot among travel blogs - entertainment. I'm quite an introvert, and when I'm travelling there's nothing better after a day of seeing people or places than to go back to my hotel room and spend a few hours chilling- watching some TV, checking in on some gaming videos, or listening to some podcasts.
Sadly, most hotels (and even AirBNBs) don't have great provisions for this. Podcasts are easily solved with a good portable speaker - I have a UE Boom 2 for that, which is water-resistant to boot - but video is a bit harder.
Most hotels have a TV, at least, and you can generally find an accessible HDMI port. For a while I carried around a HDMI cable for my laptop, but recently I have taken instead to having a Chromecast on hand. Not only do most video services support sending video to it - including files on your PC, via Videostream or VLC - but you can always stream a Chrome tab or your computer screen for those that don't.
The main problem with the Chromecast, of course, is that it needs its own WiFi network to operate on. Hotel WiFi doesn't fit the bill - not only is it shared, but it normally has a login page, which the Chromecast is not going to be able to get past. Thankfully, there's a whole range of mini travel routers to solve this problem, and my personal favourite is the GL.iNet GL-AR750S.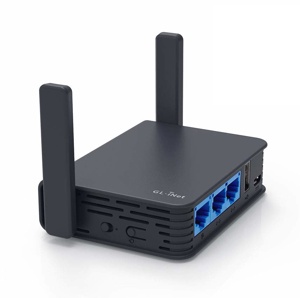 That mouthful of a product name belies its simplicity - this is a small, USB-powered device that makes a WiFi network with internet sourced an Ethernet connection, another WiFi network, or even a tethered phone or LTE dongle. It's just what you need for a Chromecast - plug it in, connect it to the hotel network, handle the login page once and then connect everything else in via your own new WiFi network.
It's so small it now comes with me everywhere, and even better, it supports being a VPN client. I plug it in, log on, then slide the switch on the side to connect to my home VPN and route all my traffic safely even on open networks. It also just runs OpenWRT, so you can install adblocking or other fun things on it over SSH or the advanced web interface. It's been a joy to use, and an improvement over the slower old one I had from a different brand.
Future Plans
There are a few things I've pondered adding to my kit - pico-projectors, for example, always seem appealing but never have the right value ratio to make them worth their size or weight, especially when most places have TVs with a HDMI port somewhere.
I also have my eye on something to replace the Omnicharge Omni 20, as it doesn't do USB-C. There's a lot of USB powerbanks on the market, but very few of them will both take any DC input to charge with as well as provide an AC output.
I've also not talked here about frequent flier plans or credit cards - I have OneWorld Emerald status, since I dump all my points into a single program (British Airways in my case). It's really nice to have lounge access, but it's only a differentiator if you travel a lot; if you are an occasional traveller, paying for lounges is far more sensible than trying to stick to one airline or alliance and potentially losing out on cheaper flights.
As for what countries to see this year? My list of destinations is sadly limited by the world's anti-LGBT laws, so there's a whole load of interesting countries I just can't visit, but a return visit to Japan and New Zealand definitely feels on the cards, as well as maybe finally getting to go up the Jungfrau Railway because, well, railways inside mountains is a fantastic idea.